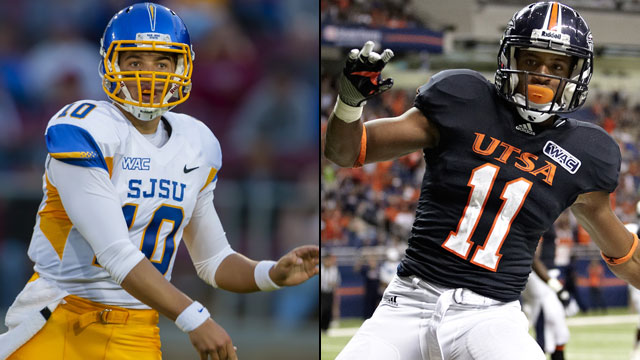 San Jose State QB David Fales and UTSA RB David Glasco
square off Saturday.
This weekend, I'm headed to San Antonio for some college football, covering UTSA against San Jose State for ESPN3. It's Homecoming and the first home conference game for UTSA, which is in its first year of a two-year transition to the FBS level. As such, the Roadrunners' 5-1 record is a bit misleading; they are 2-1 against FBS opponents, including South Alabama, which is in its second year of the same two-year transition. San Jose State entered conference play as a title contender along with favorite Louisiana Tech and Utah State, but a lopsided loss to Utah State last week dampened the Spartans' confidence somewhat.
I'll be working the game with former Florida State offensive lineman Forrest Conoly, a familiar face by now, and we spent some time this week on the phone with both coaching staffs. There are a lot of matchups and sub-plots to keep an eye on, but here are the two biggest questions of the game:
Can San Jose State's offense bounce back?
San Jose State was sacked 13 times last week. 13! That's only two shy of the NCAA record. Nobody expects UTSA to duplicate that effort; the Roadrunners' defensive front is nowhere near the equal of Utah State's, and San Jose State will definitely make some adjustments. But UTSA is going to have to get pressure on Spartan quarterback David Fales, a junior college transfer with an almost unerringly accurate arm. If Fales is forced to move in the pocket, it could disrupt his throws enough to keep UTSA in the game. San Jose State will also try to take some pressure off Fales and his receivers by running the ball – after all, Rice ran for 301 yards against the Roadrunners last week – and the UTSA defense will likely need to continue producing turnovers to win the game.
Can UTSA win without a full-strength Eric Soza?
Roadrunners quarterback Eric Soza scored the first touchdown in program history, has started every game, and rarely misses a snap. Any discussion of team leaders starts with him. So when he jogged to the locker room with a hip injury late in the first half last week, it was a troublesome sign. He returned to play the second half and practiced this week, but he is still a question mark for Saturday and will not be at 100 percent even if he does play. It is asking a lot of UTSA, which is probably outmanned on pure talent, to win without him or with him at less than 100 percent. If he cannot go, redshirt freshman Ryan Polite should get the call; he looked good on two drives against Rice. How the possibly hampered Soza or the inexperienced Polite performs will be the first make-or-break challenge facing UTSA.
Players to watch
San Jose State
10 David Fales, QB 162-316, 1,867 yards, 12 TDs, 3 INTs
Coaches on both sides rave about his accuracy, capable of squeezing throws into tight spaces, and Fales has talented receivers to make it pay off. He struggled to get rid of the ball quickly, however, against Utah State's fearsome pass rush.
43 Travis Johnson, DE 39 tackles, 13.5 tackles for loss, 7.5 sacks
As consistent as they come, Johnson continues to get into opposing backfield despite facing regular double-teams. He's tied for the national lead with a tackle for loss in 12 consecutive games, and he is the only player from a non-BCS school to be one of 25 quarterfinalists for the Rotary Lombardi Award.
UTSA
1 Kam Jones, WR 12 receptions, 205 yards, 1 TD
Forrest always likes to ask about a 'wild guy,' and Jones is it. A former high school quarterback from small town Edna, Texas, Jones can catch, run, and throw from his wide receiver spot. He hasn't scored since the season opener, but he's the offensive playmaker.
17 Erik Brown, CB 16 tackles, 4 interceptions, 1 forced fumble in 5 games
Brown was a high school star at local power Converse Judson, but finished high school in Arizona and began his college career at Fresno State. Back home in Texas, he is responsible for five of UTSA's 17 forced turnovers and a key player in a secondary that faces a stiff test on Saturday.