My 2013 broadcasting season is underway, as I'm at the Desert Friendlies in Tucson, Arizona, working on the MLSsoccer.com online broadcasts! After calling Houston-Colorado tonight, I'll work a game Friday, two games Saturday, and wrap up the trip with Seattle-Portland on Tuesday morning.
Game highlight package: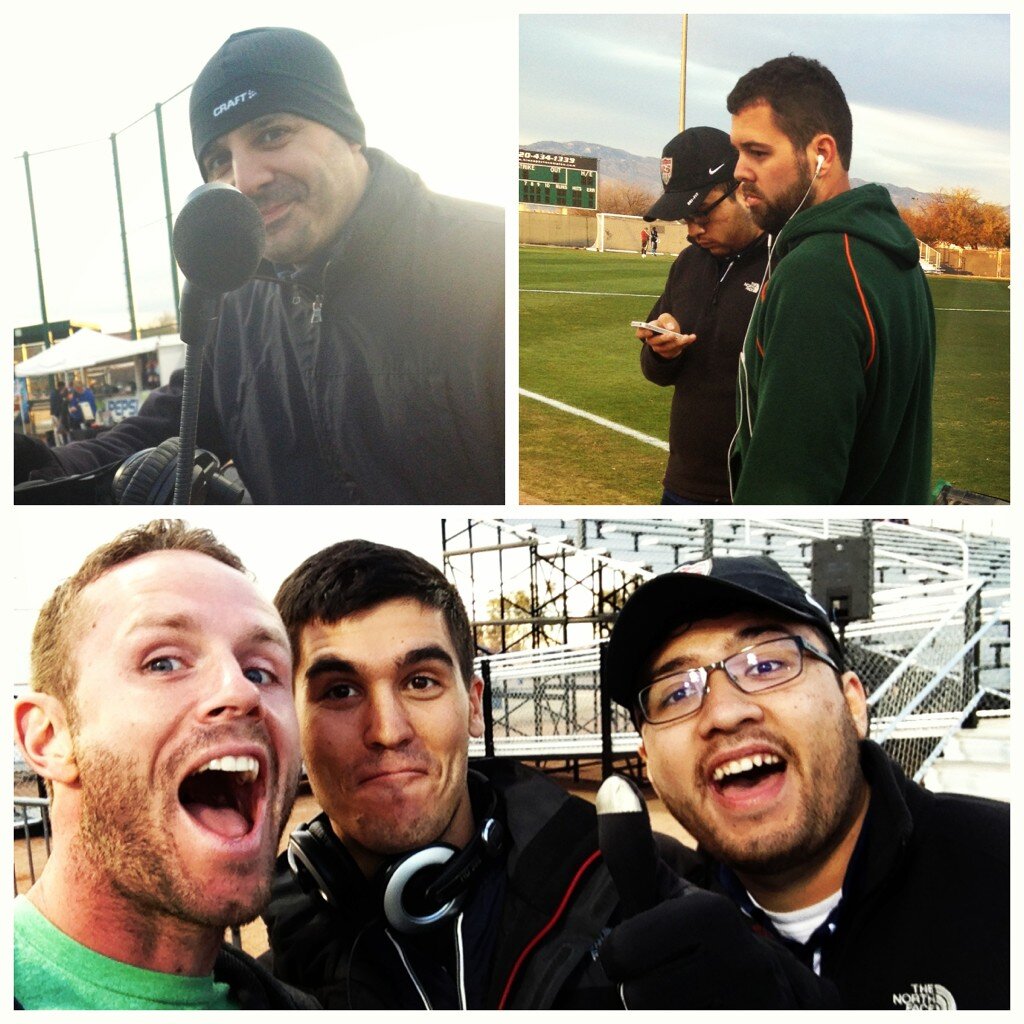 The game production may seem simple compared to a regular-season broadcast, but it takes a lot of people and effort to put together our show. You can see a few of them at the right -- I promise they don't always look like that. Luckily, most of these guys worked three games on Tuesday, so they felt like a single game was easy pickings.
My broadcast partner, MLS 'Armchair Analyst'
Matt Doyle
, conducted interviews with players and coaches from Houston and San Jose during the day, so I tagged along and tried to pick up whatever behind-the-scenes information I could. We got an early tip on an injury to Houston goalkeeper Tyler Deric and got a better idea of San Jose's roster situation, while also hearing MLS veterans talk about some of the league's top players. Hearing the near-universal praise for Landon Donovan is always really impressive - he is pretty much universally accepted as the best player in MLS history, and with good reason.
On to the game itself. Our hotel managed to totally screw up all my printing options, so my carefully prepared notes on players from both teams - especially important in a pre-season game with many non-roster players - never got printed. To make matters worse, when I got to the stadium, I was told the internet line we were using to stream the games had been cut off. Not exactly a perfect start!
But the internet situation got cleared up, I found time to at least write down lineups and numbers, and we were off. It's a bit weird calling a game from a really low position - on a platform maybe 35 yards off one end line - while the camera angle the viewers are seeing is the preferred high-middle shot. But we had a lot of fun with the show, sharing some trivia and banter and reacting to Twitter comments in addition to calling the game and talking lineups and trialists. Four more games to come this week from Tucson!