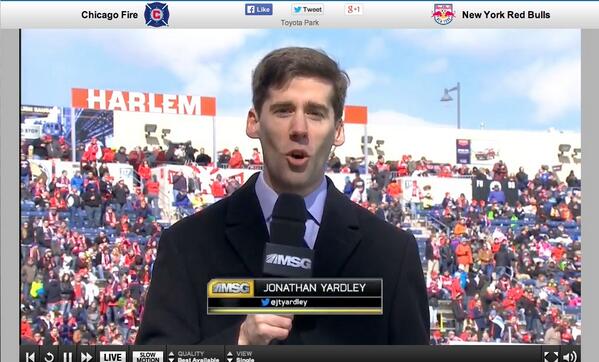 I was nervous before working on the MSG Network for the first time. But that wasn't the reason I felt like I was shaking shortly before we went on air with Red Bulls GameNight on Sunday afternoon.
No, any trembles were due to the extreme cold, as the game was played just outside of Chicago on a day with windchill temperatures in the low 20s. The cold was also responsible for my eyes watering, my nose running, and a general loss of feeling in my ears and hands. And that was all in the first segment!
But in all seriousness, I really enjoyed my first time hosting the pre-game show for MSG's coverage of the Red Bulls. I worked with a great crew that consistently puts together one of the best broadcasts in MLS, and I got to share the airwaves with two legends of American soccer broadcasting in play-by-play announcer JP Dellacamera (like me, a fill-in for the game; not like me, a veteran of the show) and color analyst Shep Messing (who welcomed me by calling me "rookie" the entire weekend.) My first game as an intern in professional sports, back in 2002, saw me work as a spotter for that duo on
an MSG broadcast of a MetroStars game
at Giants Stadium, so I really felt fortunate to work with them as a colleague 12 years later.
I really was nervous during the week leading up to the game. Working on a broadcast for the first time is a real challenge, no matter how good all the components are, because you don't have a sense of each other's rhythm and exactly how things operate. On a first show working together, you spend a lot of energy concentrating and thinking about the logistics of the broadcast (i.e. what's coming next, how long your countdown is until the next commercial, which elements are sponsored), rather than focusing on some higher-level concerns.
So I spent the week not only researching the Red Bulls and their opponent, the Chicago Fire, but watching tapes of prior editions of Red Bulls GameNight with the regular host, Tina Cervasio, and studying the rundown to plan how I would transition from point to point. I also worried extensively about the weather, which called for a really cold day but, thankfully, no precipitation. When I woke up early on Sunday morning and saw snow on the ground, it did nothing to calm those nerves!
But the light snow had come in from the lake and did not carry to Bridgeview, where the stadium is, so the day turned out to be clear. As for the cold, I literally wore three pairs of socks and three different shirts under my collared shirt and my overcoat to try and stay warm. I had gloves and a hat, too, but tried not to use them often. The gloves did make an impromptu appearance on my
post-game interview with Dax McCarty
(at right).
It was an easy group to step in and work with for the game, and I had a great time doing it. With the pre-game show set to start at 1:30 p.m. Central Time, we had an 11 a.m. meeting, and I talked to coaches from both teams around 12:15 p.m. From there, it seemed like almost no time had passed before the truck was counting me down to start the pre-game show, and I really didn't have time to think about being nervous.
The show went well, and it was great to know that my parents, family, and friends back in New Jersey could watch the game on regular television, rather than trying to wrangle something via the internet. As normal as watching online is nowadays, there was something cool about my parents being able to flip on their TV and see my ugly mug.
We had a few hiccups – the halftime interview was canceled abruptly when we realized the designated camera operator had not made it on the scene; I initially introduced Philadelphia-Columbus highlights as "first-half highlights" before correcting myself; and you can clearly see my earpiece during the
post-game interview with New York head coach Mike Petke
, a result of switching sides so that Mike would be properly lit. All things we dealt with swiftly and, I felt, competently.
All in all, a really fun trip to Chicago and chance to work a game for a network I've watched since I was a kid. Hopefully we get to do it again some day, and hopefully it will be a lot warmer!